Cinema, 2022: You Miss 100% Of The Shots You Don't Take.
by Andrew "Ducky" Dutkiewicz
It's been a few years since the pandemic completely rearranged the spider-web of theatrical release, and more encompassing – the universe of moving images. Streaming is championed by press and audience. Film festivals are accessible from your couch. And cinemas struggle to fill seats. Simply put: it's all different. What's made. How it's made. Who's watching it. Where they're watching it.
The pandemic was a broom, swiping at an established web, and now the spiders are rebuilding on a different beam – it isn't easy.
As audiences have decreased, mid-budget films struggle to make their money back [mid-budget meaning it costs 20 to 80 million]. TÁR, Todd Field's character study of a complex composer lost. Budget, $35 million. Box office, $12 million. Steven Spielberg, who delivered the autobiographical The Fabelmans, lost. Budget, $40 million. Box office, $27 million. And that's Steven Spielberg. Not to mention the babylon of the year… Babylon, Damien Chazelle's golden age Hollywood epic with a budget of $80 million, and a box office of $50 million.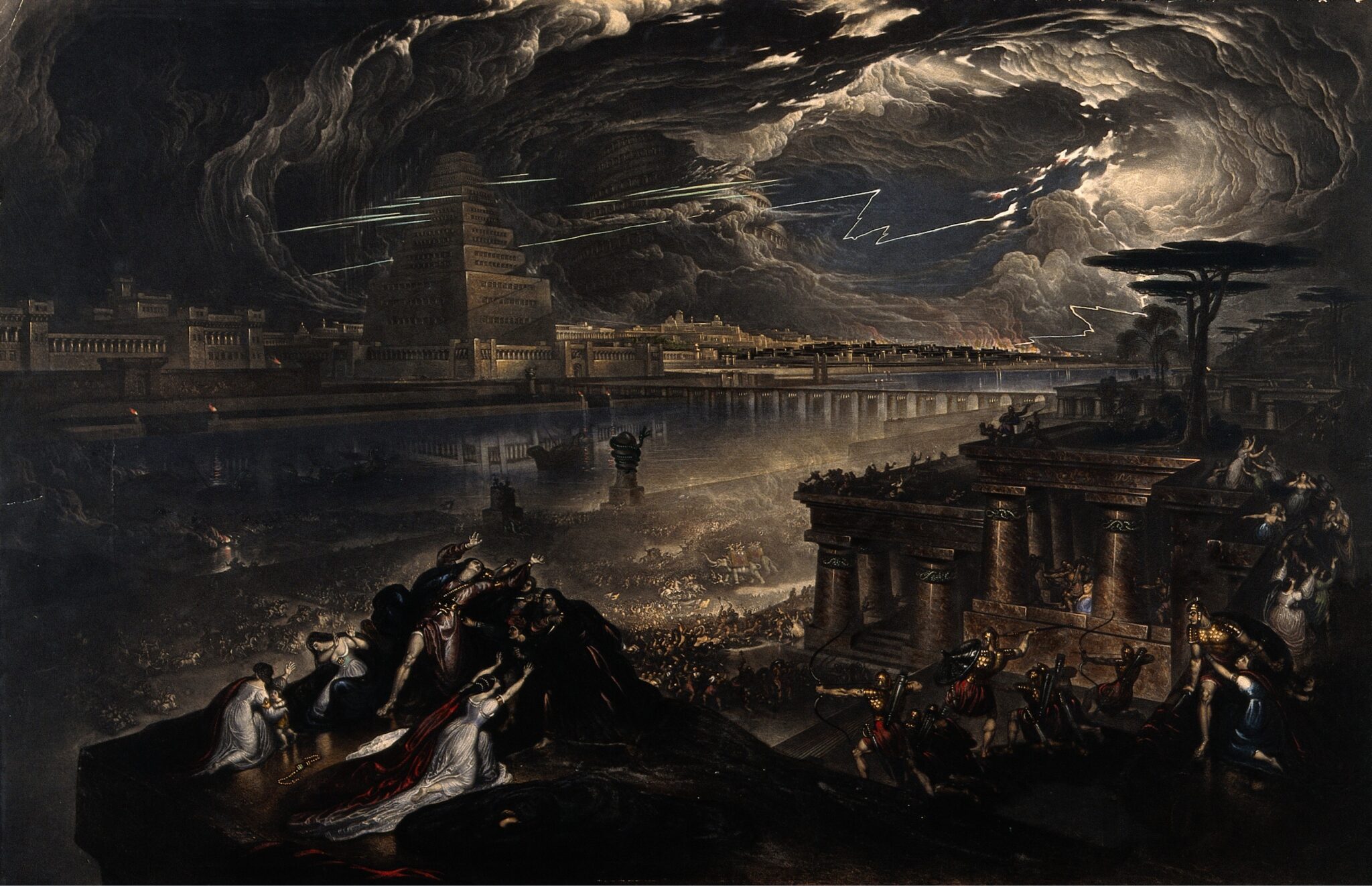 [The Fall of Babylon ; Mezzotint by John Martin, 1831] 
This inability to break even is across the board. Bones and All. She Said. 3000 Years of Longing. Amsterdam. The Northman. Empire of Light… and ignore the mid-budget: even Disney didn't make their money back on their animated adventure Strange World or their Pixar franchise film Lightyear.
Scary for the spider web.
If budgets are given to filmmaking teams with original stories, and those stories don't make their money back (at the least), filmmaking teams get more "no's" to requests for funding.
The web shakes.
Independent production houses produce less original cinema. More and more films are pushed onto V.O.D websites – ready for anyone with a tablet. And the machine goads companies into making more and more films that they are certain will make their money back.  
If the risky original stories aren't making money, while the always-banking blockbusters are making money, it's not difficult to make the conclusion of what will be produced.
What can we do about this armageddon? Simply and most apparent:
Go to the movies! Support your local art houses and the multiplex in the mall. Regal Cinemas is closing 39 theaters after declaring bankruptcy – go out and watch things. Because for now, movies are still being made!
Blockbusters are keeping theaters open, thank god! And if it wasn't for services like Netflix, some singular visioned filmmakers would have no place to go. Martin Scorsese's The Irishman. Spike Lee's Da 5 Bloods. Jane Campion's Power of the Dog. Noah Baumbach's previous 3 films. And many more. Did you know Netflix supposedly gives zero notes? Isn't it great that someplace is producing feature films, allowing creative control and expendable budgets!?
With the abolition of this freedom, we all lose. Unique artists with original stories will be pushed to the side, and our screens will be filled with only one type of image. The type that has been tested, processed, and synthesized through control groups and consensus. No risk. No originality. No voice. This isn't a new idea, studios have been servicing audience test-sheets and media response for years… the fear is the day when all cinemas left standing are playing nothing but these films.
When the spider web is built by robotic spiders with their safety-tested joints of plastic.
But for now, thank the heavens, there are films being made by singular voices. And when films are made in quantity, more films can have quality. 2022 was a continuation of the new spider web. A re-construction, full of new original stories and continuations of established worlds. Some – Avatar 2, Black Panther 2, Everything Everywhere All at Once – are breaking box-office records. Others, not making a penny back. Each one made in a landscape of instability and confusion.
But there is something to take away: people are trying! Studios are working. Filmmakers are creating. And from our numbers at the TCA, audiences are returning.  
So thank you!
To everyone who came out to see a movie this year. It is people like you, and places like this, that give support along the ginormous beam, all to help anchor the web.
A place where there is allowance to explore and program the mid and micro-budget gems. Films that feel special, with vision and innovation. Ones that aren't just busting-blocks or continuing a 20 film narrative. The ones that struggle financially. The ones that are made with vision and invention and love. The ones we love. 
Thank you for coming out Taos.
We need you in the web.
 – Andrew Dutkiewicz is the Community Outreach Specialist at Taos Center for the Arts
[top graphic from The Fabelmans]