The Comeback Kids: Post-Pandemic Healing
Night of a Thousand Stars Rocks On!
by Michele Potter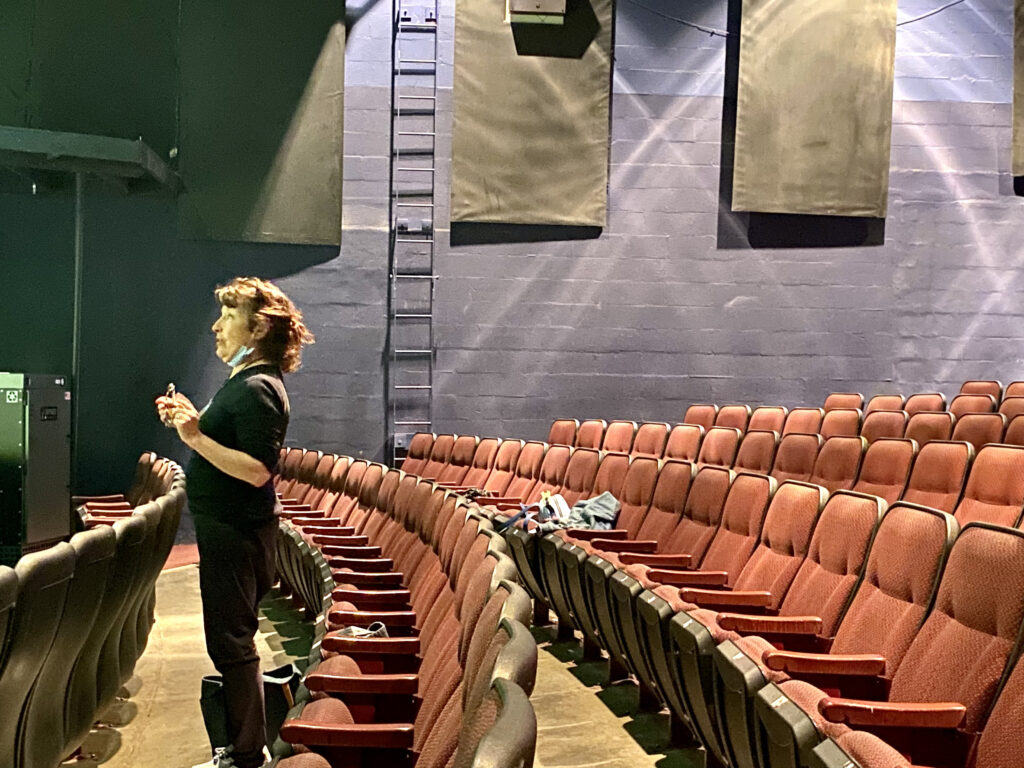 '
I'm sitting in this sweet little theater just a few rows back, my eyes riveted on the stage ahead of me. These boundless-energy kids are trying out for A Night of a Thousand Stars.  It had been much too long since I've done this–sat in a live theater. The sound of the girl before me (wonderful acoutstics) singing her heart out brings me to silly tears.
It's been awhile since they've done their show–three years in fact. Two were lost to the pandemic, of course, and another to the death of director Cindy Valerio's mother. Back then, the theater was going strong and getting stronger each year since 2016. Now their mission is to bring it on back, and I know they're worried about what it will take to get back to that place where they were doing four shows a year to big audiences with tons of talent.
But it's all about the kids and the kids who show up are between 9 and 19, with veteran performers rejoining them each season. Eight of them are judges, and right now, four of them are sitting on the side of the stage watching.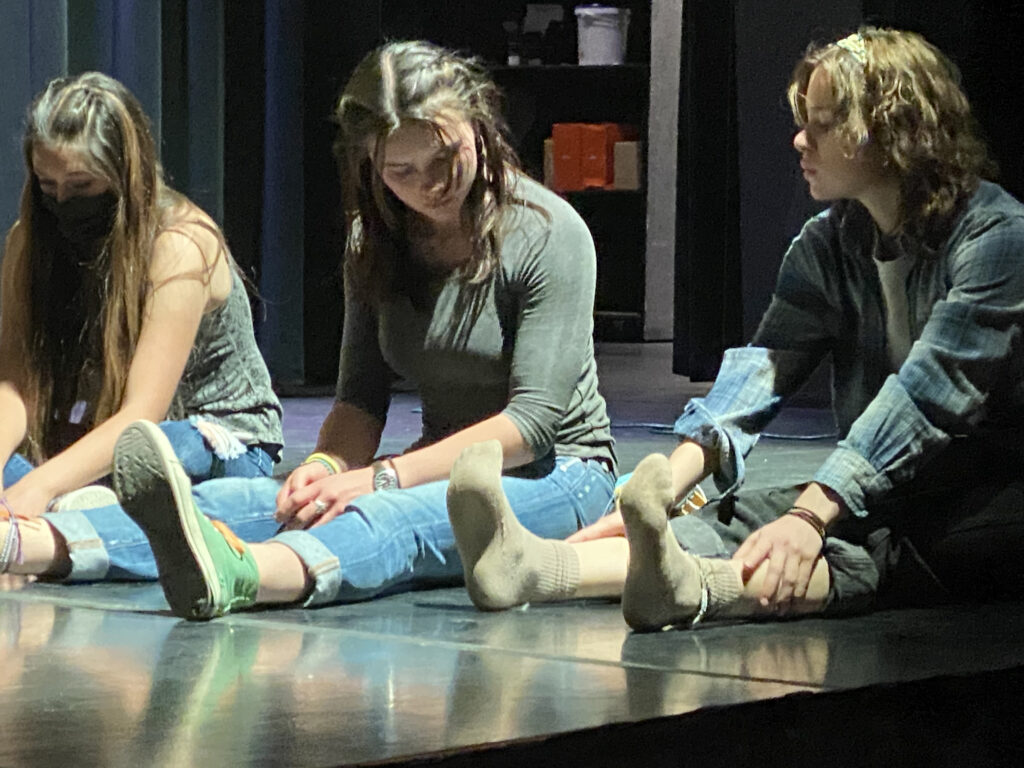 Jimena, a veteran performer, is warming up. She seems at home, enough so that she asks if she might try out some new material.
"Do I have time to try out four songs?" she asks, "And you can help me choose?"
Soon she's belting out Blondie's  "Heart of Glass." She's fearless, mistakes and all. She's got the backing of her peers to try something new. And who wouldn't have confidence, I think, with a voice like that? Critique follows: "Are you going to put some more movement into that? You gotta move with that kinda music."
Another young performer, Lilith, appears tentative, but she's here, prompted by her high school acting class. We all know how much guts it takes sometimes to just show up. She's got a monologue which reveals a young Lucy in Peanuts asking Charlie Brown his feelings on love.
She's got it memorized and rushes through it, her face to the mic. Then she apologizes for a mistake.
Even I get to weigh in, so I tell her I love the way the quality of her voice works for the wistful questions she is asking "Chuck."
Valerio is affirming and yet constructive in her coaching. She's been in theater for a long time, from back in New York, though she's been in Taos forever. She's also a therapist. Both show.
She stands and says, "Honey I'm only telling you this because I love you: Don't apologize. Can you do it again more slowly?"
But first Valerio gets all the kids to do an exercise to loosen everyone up. They jump onstage in a circle. They're soon moving around, being silly, shaking lit up, laughing.
So Lilith begins again after they tell her she can use her paper script. Putting her mask back on is also making her feel more comfortable.
Valerio asks her: "Who might you be addressing? We don't have to know who that is, but maybe you have someone in mind?"
A slight smile flickers across her face.
Then I think: Isn't that what we're here for? To imagine our deeper self? To embolden it, accept it, to make the most of our talents and express it? 
And so the magic begins. Lilith starts out haltingly before she begins to transform. Suddenly she's Lucy, imploring "Chuck" to tell her what he thinks about love.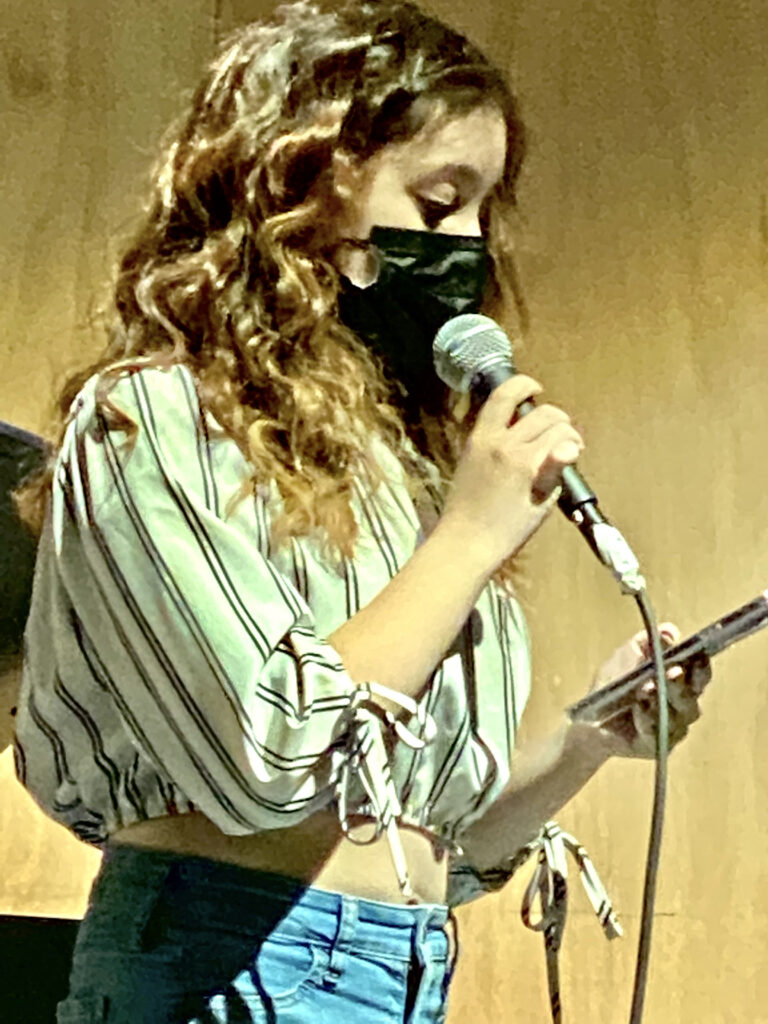 We all applaud. Maybe a star is born–who knows, but in the moment, it doesn't matter. We're all applauding for the courage it takes for any of us to put ourselves out there to learn, to have a shot at making the most of our talents, and to be part of a community. I can't wait to see these Taos youth–the singers, bands, dancers, comedians, and actors–when their audience appears.